Abbaye Notre Dame d'Orval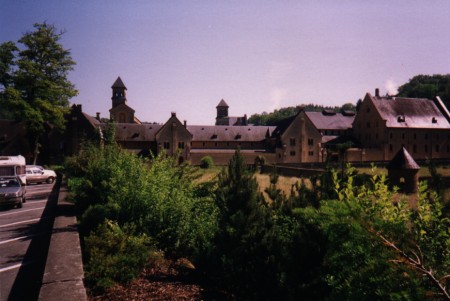 Orval 2, 6832 Villers-Devant-Orval. Tel: 061 31 12 61
Beer List -
Any tasting notes that appear against the beers are the personal opinions of the authors. If the authors disagree on any aspect then their initials appear before their individual opinion.
Orval - 6.2% alc/vol
Comments - First brewed 1931.
Tasting Notes - An amazingly complex, well balanced beer with a strong hop character and a lovely smooth, creamy texture. Gets noticeably drier as it ages. An excellent example of keeping the range small and concentrating on quality. Petite d'Orval - 3.5% alc/vol Comments - Brewed for consumption in the abbey and supposedly only available from the bar l'Ange Gardien near the abbey. Tasting Notes - Very similar in appearance and hop dominated taste, though not as complex, and with an apple fruit taste.
---
© 2000 J.Woods & K.Rigley
This page last updated Friday 20th December 2002