Brasserie Jupiler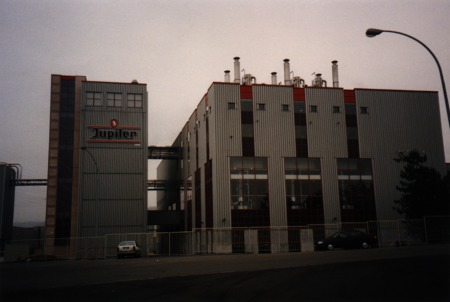 Rue des A.Houblonnières 2, 4020 Jupille-sur-Meuse. Tel: 04 345 84 66
Beer List -
Any tasting notes that appear against the beers are the personal opinions of the authors. If the authors disagree on any aspect then their initials appear before their individual opinion.
Jupiler - 5.2% alc/vol
Tasting Notes - Bland and easily drinkable with little reason to analyse it too deeply. Epitomises a mass-market beer.
Piedboeuf Blonde - 1.5% alc/vol
Tasting Notes - Very shandy-like - in common with most table beers - and refreshing but with an artificial edge. Not a bad introduction to the world of table beers nevertheless.
Piedboeuf Excellence - 2% alc/vol
Comments - Interbrew but presumably from Jupiler plant.
Piedboeuf Fonçée - 1.5% alc/vol
Tasting Notes - Acceptable version of a brown table beer which, by its nature, is supposed to be sweet.
Piedboeuf Triple - 3.8% alc/vol
Tasting Notes - Although in the Piedboeuf range its not labelled as a table beer. To give it a beer like this the name of "Triple" is an absolute travesty and should have Trappist and abbey-beer lovers enraged. Do they not have a Trade Descriptions Act in Belgium?
---
© 2000 J.Woods & K.Rigley
This page last updated Friday 20th December 2002