Brasserie Artisanale des Bruyeres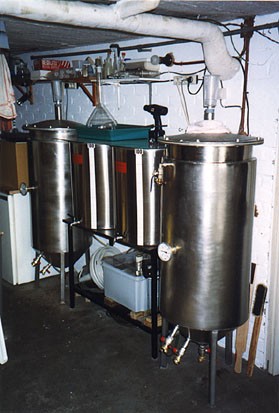 17 rue sur les Pleins, 4020 Jupille-sur-Meuse. Tel: 043 67 55 48
Beer List -
Any tasting notes that appear against the beers are the personal opinions of the authors. If the authors disagree on any aspect then their initials appear before their individual opinion.
La Botteresse Ambrée - 8.5% alc/vol View Label 46 Kb
Tasting Notes - A lasting experience of good rich, fruity and alcoholic character. Fairly complex and pleasantly warming.
La Botteresse au Miel - 8.5% alc/vol
Comments - Due to the cost of the ingredients and the time it takes to make this is not brewed on a commercial basis. However, it is available at the brewery - occasionally.
Tasting Notes - A superb beer that should be on everybody's "must try" list. Extremely impressive, mightily complex, spicy honey beer.
La Botteresse Brune - 9.5% alc/vol
Tasting Notes - An excellent complex dark beer that offers enough to appeal to those that do not normally drink this style. Rich deep and complex yet with a surprising lightness.
La Botteresse Cerise - 8.5% alc/vol
La Botteresse de Noël - 8.5% alc/vol
La Madelonne - 7.5% alc/vol
---
© 2000 J.Woods & K.Rigley
This page last updated Friday 7th February 2003